We are climate positive by a factor of five
For the last four years, we have pledged to be the most environmentally-aware driving school. We have consistently offset our CO2 emissions from our tuition vehicle and office use, and always aimed to exceed that target by 25%.
Since our last update, we have begun using a hybrid-electric tuition vehicle, which reduces our on-road carbon footprint by 50%
From April 2021 to April 2022 the CO2 emissions from our tuition vehicle and office use will be approximately 4.5 tonnes(1). We have offset five times that amount using an accredited carbon offset scheme provided by Carbon Neutral Britain. This scheme offsets 25 tonnes of CO2 through the planting of 480 trees over a period of 12 months.
We continue to reduce the carbon footprint of driving lessons in the following ways:
Using a financial incentive to encourage the use of public transport to bring customers closer to lessons rather than the instructor clocking up more mileage.
Allowing longer periods between lessons to allow car travel to be less rushed and therefore more fuel-efficient.
Timing lessons to avoid peak travel times and unnecessary traffic congestion.
Using a hybrid-electric vehicle for tuition: we aim to run a fully-electric vehicle by June 2023.
Teaching fuel-efficient driving and efficient journey-planning as part of our syllabus (in line with National Standards for driving cars and light vans).
Teaching basic vehicle checks and maintenance during lessons to achieve a more fuel-efficient experience.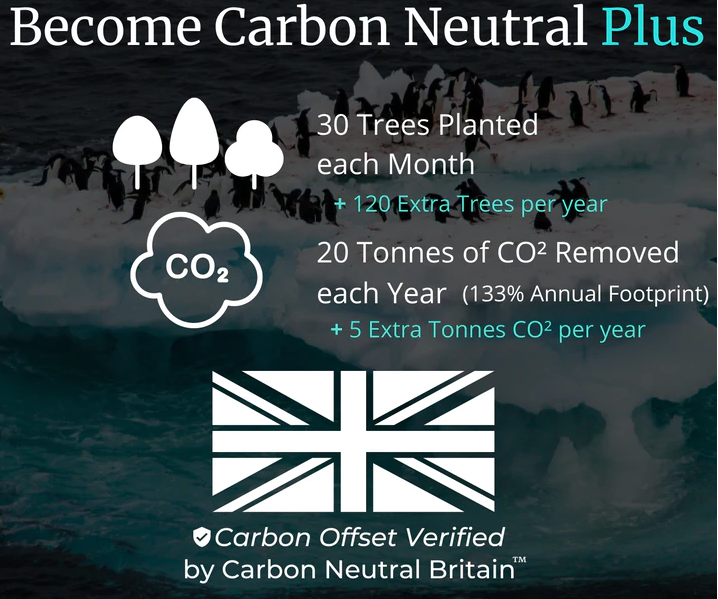 Calculated in February 2022 and extrapolated to April 2022